Didik Turtle
How to build a two person electric vehicle in 14 hours!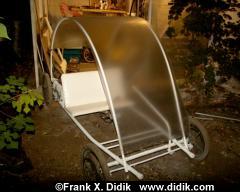 The Didik Turtle is probably a vehicle that should not have been built since it does not incorporate any particularly new technological features. The vehicle was designed and built in just 14 hours, with the intention of being used at Ecofest 2005, in New York City. The original concept was to allow attendees to actually drive the vehicle around a closed loop, though this did not happen.
The vehicle, is powered by two 1.25HP motors on the rear wheels and can carry two people with a top speed limited to 28mph (just under 50km/hour) with a range of 25miles. The vehicle was built with simplicity and speed of construction in mind and does not incorporate any suspension system, other than the cushioning effect of the seat and the inflatable tires. Rather than a complex steering system and geometry, the steering is controlled by a tiller bar. The tire rod ends are nothing more than heavy duty hinges. The vehicle is essentially consists of a welded and bolted light weight tubular steel frame. The roof/canopy tubes are actually 3/4" PVC plastic tubes that fit snugly (and are glued with silicon caulking) into steel guide tubes. The plastic canopy is extremely thin and lightweight, and was affixed to the PVC tubes again with white silicone caulking. Surprisingly, the combination steel/PVC tubing created a rather strong and for the most part, non-flexing body. The seat consists of two 3/4" plywood boards covered with dense foam cushioning and covered with a white vinyl leatherette. It is actually comfortable to sit on and drive. It has also been driven in the rain after door were attached, which are made of 8mil thick, flexible, clear vinyl.
The vehicle is 7.5' long by 44" wide. The total weight, with 2 12volt deep cycle batteries, but without occupants is only 180lbs.
DIDIK alternate energy vehicle links:
Didik Turtle (or how to build a two person electric vehicle in 14 hours)

Hovercraft (non Didik design)

The Horseless Age First Car Magazine in the USA, starting in 1895. Contains details on every early car. Fascinating.

Click Here to review major catalog of early books on electric vehicles.
Other DIDIK EV and Energy Related Menus
Email DIDIK.com Please note that because of the large volume of emails, relatively few are answered. Please review the above links for most common questions, such as building an electric vehicle. Be sure to read "Critical assessment of Electric Vehicles", before you send an email. If you do send an email, please be sure to write "Electric Vehicle" in the heading or title of the email, otherwise, it is likely to be treated as spam. Thank you.
Publishing and Copyright Information

Copyright 1982-2001 by Frank Didik. All Rights Reserved. It is requested that a copy of any quotation be sent to the author by conventional postal mail or electronic mail.

Didik, Didikmobile, Muscle Car, Foldable Muscle Car, Shooting Star, Sun Shark are marks of Frank Didik.
| | | |
| --- | --- | --- |
| Thin steel tubing was cut with a circular saw and metal cutting/grinding blade. | Overall measurements were measured as the vehicle was being constructed and I used myself as the "model". It should be noted that I am 6'4" (about 194cm) tall. | The thin walled steel tubes were laid out, cut and welded, on the spot, using a low voltage (110volt) inexpensive stick welder. |
| | | The ball joints are nothing more than heavy duty welded hinges, |
| Everything was simply welded together. The chases was both welded and bolted for added strength in case the welds fractured using extra strong 5/8" machine bolts. | Since the vehicle does not have a suspension system, I thought that the bolts would provide an extra measure of safety, though this may not have been necessary. | |
| | | The roof/canopy consists of thin, lightweight, clear plastic that has been treated to minimize the effects of UV light. |
| The 4' x 8' thin plastic sheet was laid over the curved PVC tubes and temporarily held in place using spring loaded clamps. | After careful measuring, the plastic sheet was cut to size using standard tin snips. | The seat consists of 3/4" plywood covered with 1" high density foam and covered again with white vinyl leatherette. |
| The seat material was then stapled to the wood, using an electric industrial stapler. It could also have just as easily been nailed using upholstery nails or tacks. | Since I needed to get the job done quickly, I worked non-stop till it was finished till the wee hours of the morning. The Didik Muscle car is seen to the left of the photo. | |
| | | The plastic roof/canopy was glued to the PVC tubes using white colored silicon rubber. |
| The finished vehicle with the protective translucent film still on the roof/canopy. It was pealed off shortly after this photo was taken. | | |