Didik Sun Shark (a solar-electric-human powered safety motorcycle)


DIDIK Muscle Car (A three person human-electric-solar hybrid vehicle)


Foldable Didik Muscle Car (a foldable 3 person human powered vehicle)


Didik Shooting Star (a "space age" gas-electric hybrid vehicle)

Solar Energy Research Main Menu (information on our solar energy program)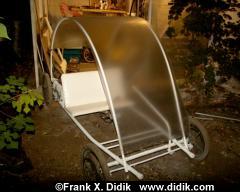 Didik Turtle or How to build a two person electric vehicle in 14 hours.


Hovercraft (non-Didik design two person hovercraft)


Didik Long Ranger (a Citicar modified to be a gas-electric hybrid)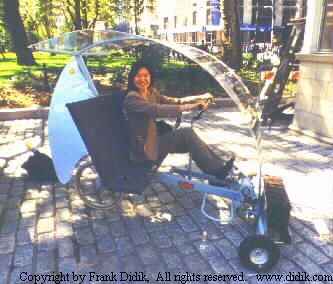 Didik Simplicity (A two passenger solar-electric human powered vehicle)


Didik Arctic Explorer (a heated enclosed floating snowmobile for 4)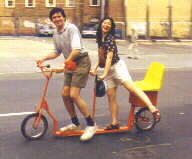 Didik Duplexity (a 3 person scooter)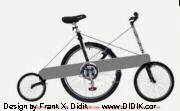 The Quest for the worlds lightest bicycle. The 4 lbs bike.
Thank you for visiting the Didik Design Website. Frank Didik alternate energy vehicles are unique, safe, practical and, are indescribably fun to drive. The vehicles are powered by a variety of propulsion systems including human, solar, electric and hybrid systems. The vehicles are designed to require a minimum amount of maintenance and can usually be serviced by the driver. Presently, the vehicles are produced on a custom, made to order basis therefor specifications can be modified to fit the individual buyers specific needs. It is possible to rent or lease the vehicles. To consider the advertising and publicity potential of our electric vehicles, be sure to go to our sponsorship page. Financing for both leasing and purchasing is available to qualified buyers. If you have any questions or if you are interested in distributing DIDIK vehicles, please contact us. We are particularly interested in distributors in Europe and Asia. Thank you again for visiting the DIDIK alternate energy vehicle web site. We welcome your comments.
Press CTRL D now, to bookmark this site
DIDIK.COM is updated from time to time. Bookmark for future reference.
Press CTRL D , to bookmark this site
email: ev1 at didik.com
Please note: in an effort to control spam, when you send an email,
please include the phrase "electric cars" in the heading and also give a
three to five word explanation what the email is about Thank you.
The Horseless Age First Car Magazine in the USA, starting in 1895. Contains details on every early car. Fascinating.

Click Here to review our catalog of early books on electric vehicles.
Other DIDIK EV and
Energy Related Menus:

To receive information on DIDIK VEHICLES, CD-Roms, obtain a press kit or the Electric Car Owners Club: